The president of the United States- Barrack Obama and his wife Michelle have said Nigeria can become the toast of the world if only Nigerians would work together in unity.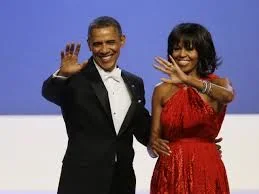 President Obama made this disclosure in a letter he wrote to former national chairman of the Peoples Democratic Party (PDP), Alhaji Bamanga Tukur who recently turned 80-years-old.
Obama said: "your generation has witnessed what our Nations can achieve when we join together in pursuit of a brighter tomorrow".
"We trust you take pride in all you have accomplished and in the ways you have touched the lives of those around you".
According to Vanguard, the congratulatory letter which the US-president personally signed with his wife, Michelle, also contained praises for Ambassador Tukur.
The Elder statesman was hailed for his commitment to the improvement of the standard of living of Nigerians.
- Naij