Oby Ezekwesili on Sunday shared a new article in commemoration of 1000 days of Chibok schoolgirls abduction.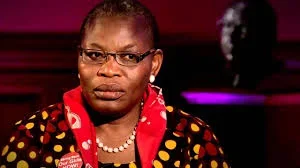 On that 30th April 2014 when diverse citizens gathered to march in solidarity, no one could have imagined that any out of our 219 Chibok Girls abducted from their secondary school in April 2014 would remain in captivity of terrorists 1000 days after the tragedy. One recalls pictures of distressed parents supported by local hunters foraging through the path they were told that the terrorists had hauled away their daughters. Meanwhile, their government was missing in action cynically indifferent to the cries for help.
One of the parents said he was desperate to find his daughter by walking off into Sambisa Forest before the Nigeria Army prevented them, because the future of the entire family depended on that daughter finishing school and taking care of her siblings. How can we not be moved by such decisiveness on girls education in a region that topped both then and now, the chart of poor school enrollment and worse parity ratio of four boys for every one girl in school compared to the rest of the country?
Nations that have bothered to know the value of having all their girls in school have since discovered the multiple and diverse benefits. More than ever before in history, the economic health of a country depends upon the skills, knowledge, and capacities of its people. Research validates that countries which have made dynamic progress in the last century, are also the ones that help each of their citizens - male and female- to acquire the human assets of values, skills, knowledge and capacities that education bestows.
In addition to the obvious productivity and income earning benefit to the girl-child and their families, some of the data that validate a diverse range of benefits have global relevance. According to UNESCO, the "Children of mothers with secondary education or higher are twice as likely to survive beyond age 5 compared to those whose mothers have no education. Improvements in women's education explained half of the reduction in child deaths between 1990 and 2009. A child born to a mother who can read is 50% more likely to survive past age 5".
We are products of the values that shaped us. A Value that some of us imbibed while growing up is that nothing makes a female child inferior and so nothing should keep them from being educated. Those of our parents that held strong to such value bequeathed them to us by sending us to school despite our being female. Like the parents of the 219 ChibokGirls, our parents overcame all barriers that are known to limit educational opportunities available to girls around the world or even more specifically, our various regions in Nigeria.
For the forward thinking parents of the abducted girls, they desired that their daughters would not be part of the statistics of out-of-school adolescent girls. A recent report on Girls Education in Nigeria by the United Kingdom's British Council found that in the North East, 54% of adolescent girls are out of school. In the North West, it is 53%, in the North Central, it is 21%, in the South South it is 9%, in the South West 6% and in the south-east, it is 4%. The ChibokGirls parents understood that at an individual and family level, the benefits of offering education to their daughters outweighed the associated social, cultural, religious, physical risks and economic constraints.
What they did not imagine as part of that calculus was that the physical risk to life for those who dared to show up in their Chibok school has risen substantially to certainty. Boko Haram terrorists are driven by the hideous determination to make knowledge abominable thus challenging our civilization. None of our ChibokGirls parents could however have imagined that neither their own government nor those of the rest of the world would defend the dignity of endangered lives of their children if anything like abduction happened. None of those parents could have imagined that the lives of their daughters would not be protected by the Nigerian nation-state which has a constitutional duty of providing for the security and welfare of citizens- especially its young ones. None of those parents could have thought that having their daughters show up from their various schools in that local government to take their certificate examination with peers in that Government Secondary School Chibok, would become a fatal choice between being educated or staying alive.
Doubly tragic is that as we mark #DAY1000 since the worst nightmare of those Chibok Parents materialized, two successive governments have completely failed to be as bold as the parents of our missing ChibokGirls. From the initial self-preserving coldness, indifference, mockery and tentativeness of the immediate past administration to the "cannot-be-taken-for-their-word" hubris, lethargy and inertia of the current one, any discerning observer can see a common thread. It is the same we-don't-give-a-damn attitude that is making their successors who assumed office on the back of a strong promise to commit their utmost to rescuing the girls within six months in office; to repeat history.
What is the cause of this empathy-deficit toward citizens by those that govern, regardless of their political symbol and hue? The disconcerting answer is that among our political class, citizens - whether dead or alive - have no bearing on the incentives that drive the quest for the right to govern them. Unlike those countries where leaders set their country Development vision on their citizens' values, knowledge, skills and capacities, our own "rulers" place their stewardship quest not on the lives of citizens but on the certainty that oil will flow. Oil will flow and the public purse will flourish whether a citizen dies or is missing.
The logic is simple: As long as the proceeds from oil are guaranteed, the nation can afford to leave its children with terrorists for any length of time. For as long as oil flows and with that, the proceeds, the cutting short of any Nigerian life has no effect on the country. It therefore has not mattered as much to any of the two successive Governments of Nigeria that losing our ChibokGirls is a loss to our national stock of human capital. That our Governments prolonged the time it is taking to give justice to children who were abducted in the course of their search for knowledge is a statement on the things we value.
Should any think this assertion to be farfetched, all they need do, is, compare the swiftness with which our governments -regardless of which political crew run it- responds to any threat to the flow of oil in the Niger Delta. For our governments, the cynicism towards citizens- who with a certain measure of education are converted to human capital- is that they are of less value than a barrel of oil.
This is where the parents of our ChibokGirls have more than a lot to teach our political leaders. These parents may not have any "political clout" - part of the reason that many adduce for the way their daughters have been neglected by our government-- but they know something that our political rulers are yet to grasp: No commodity but our human beings like Chibok Girls, other abducted citizens, hundreds of Nigerians needlessly killed in distressed conditions in the North East, Mainland and South Kaduna, Agatu, Aba, Enugu, Onitsha, Jos, Keffi, Abuja, Lagos and such other places, can guarantee us the swift passage to economic development.
The slight redeeming prospect of the President Muhammadu Buhari led government as far as the specific matter of ChibokGirls rescue goes, is that in the last three months, it has managed to bring back 24 of them mostly through negotiation with their terrorist abductors. For our freed school girls and their peers in all the internally dislocated peoples' camps in the North East, it is the duty of the Government's - Federal and State- to place a premium on their education and skills acquisition to ensure that Nigeria speeds up the accumulation of our human development scores. The education of the girl-child benefits not only the girls and their families but their communities, states and nations.
Following its inauguration in May 2015, the administration was trapped in more than 15 months of numbing indecisiveness on how to rescue our ChibokGirls, whether through military option or by negotiation with the terrorists. Twenty one of them were eventually released on 13th October 2016 to our Government by the terrorists and embraced by their exuberantly joyous parents. Just a few days ago, another one of the girls returned, having been accidentally found among terrorists and their victims that the Nigerian Army captured. She returned after 997 days in the stronghold of terrorists clutching an innocent baby, rather than the certificate her parents hoped for when they took a risk to send her to school.
The tragic irony is that one of the reasons parents send their girl-children to school is to help delay marriage and child bearing while they acquire life skills for a better life. Rukiya Abubarka Gali's parents while rejoicing at the return of their daughter yesterday, must be regretfully wondering like not a few other parents, whether it was worth it after all, to have made the choice for knowledge for their daughter.
That DAY1000 is upon us with still more than 80% of our Chibok Girls still captives of terrorists, the only person that can assuage their deep regret is the President and the Federal Government of Nigeria. The way it can do this is to ensure that not one more day goes beyond the one thousand days of suffering of our young daughters. This Federal Government must realize that the more it makes promises and fails to immediately back them with decisiveness and results-focused actions, it risks completely eroding its fast depleting stock of credibility and goodwill.
The inability and perhaps unwillingness to learn from mistakes is reason this Federal Government has again relapsed into inertia, lethargy, contradictions and silence on the status of its public pledge last October that another 83 of our girls would be back "soonest". Our ChibokGirls have always been a symbol of several other victims without identity that are captives of our common enemies or those whose lives were wasted needlessly across the country. Now is the time for our President to find the courage to accord the highest value to the Nigerian life regardless of their region, religion, ideology, political persuasion, social and economic status above any other thing in this country.
We must not allow more deaths over and above 18 of the brave mothers and fathers who sent their girls to school. The hope of those deceased parents and the ones alive was that their girls would go on to become part of our more enduring capital. They did so, trusting that their Government cares about the dignity of life. It is time for the remaining 195 daughters of these courageous parents to return. 1000 days are already too long. Mr President, we want more results! It is time to bring back home our girls now. And alive!!