Governor Ayo Fayose of Ekiti state has kicked against the proposed diversion of local and international flights from Abuja to Kaduna.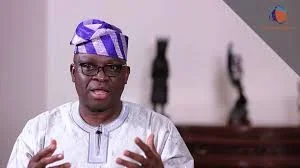 In a statement signed by his Chief Press Secretary, Idowu Adelusi, at the weekend, Fayose outlined some things that were wrong with the move.
He said, "They act before they think and they take decisions before consulting critical stakeholders. That way, they always end up putting the cart before the horse. That is how they have messed up the economy and now have brought unprecedented grief, misery, poverty and suffering on Nigerians.''
"This same Kaduna is where Shiites waylaid a whole Chief of Army Staff; the crisis created is yet to abate as the Shiites continue to defy the authorities to mount public protests. This is the same Kaduna where over a thousand citizens have been slaughtered like rams and the FG has not brought a single of the murderers to book. The situation in southern Kaduna and in other parts remains as tense as ever.
"This is the same Kaduna-Abuja death-trap of a road where a sitting Minister of the Federal Republic, his wife and son lost their lives in a road mishap. This is the same Kaduna-Abuja road where a Minister and her husband were kidnapped in broad daylight.
"It is also on this same road that an Army officer was butchered; where herdsmen parade their herds in broad daylight causing avoidable accidents and other inconveniences to travellers. This is the same road where Boko Haram and other criminally-minded hoodlums operate at will", he said.
"Why are they always leaping before they look", he asked, saying that the decision to close down the Abuja airport will further worsen the country's economic recession.