Manchester City have finalised a deal to sign Borussia Dortmund midfielder Ilkay Gundogan on a four-year deal.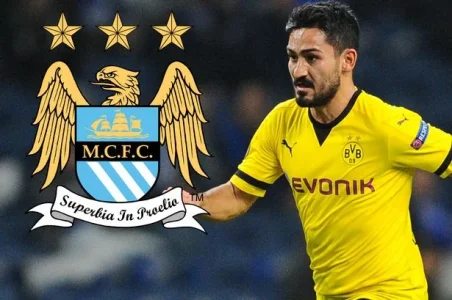 Gundogan becomes Manchester City's first signing of the Pep Guardiola era by joining the Etihad Stadium outfit.
The 25-year-old central midfielder leaves Dortmund after making 157 appearances for the club.
Gundogan, speaking to Manchester City's official website, said of his move to the Premier League: 'I'm thrilled to have signed for Manchester City.
'When I learned of City's interest my heart was set on coming here and things have moved very quickly.
'I have loved my time with Borussia Dortmund and I would like to thank the club and the supporters for the five very happy years I spent there.
'They gave me a platform to play on and I became a better player because of the belief, patience and trust they showed in me.
'Now I have a new challenge and that is to achieve great things with City. The opportunity to work with a coach like Pep Guardiola is something I am really looking forward to and I am flattered to be the first signing the Club has made this summer.
I can promise the City fans I will give everything to help us win titles both in England and the Champions League. These are exciting times.
'I have my best years ahead of me and I think we can achieve great things together. I can't wait to begin this new chapter in my career.'