It was a mysterious experience for 33-year-old Oluwabunmi and her 42-year-old husband, Bankole Ogidan as they welcomed their first child at a hospital in Ogun state last Wednesday from a pregnancy she reportedly carried for four years.
Narrating the unusual experience to The Nation, Bankole who has been married to Oluwabunmi since August 2011 said: "We were full of hope about having children and raising a complete family but we had to wait till August 2013 before she got pregnant exactly two years after".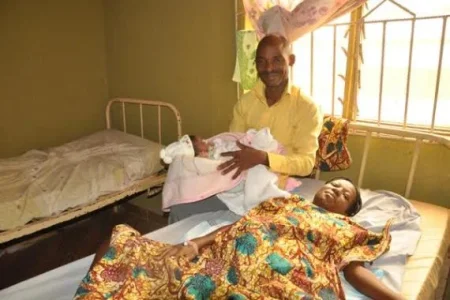 "We went for pregnancy test and it was confirmed positive. A few days after, my wife complained that she was feeling pains in her womb. We went to a midwife who told us that the pain was not a problem; that the pregnancy was intact. I was not satisfied, so I took her to another hospital (name withheld) where we did a scan but the doctor said he didn't see any pregnancy", he said.
According to Bankole, "the doctor said there had been a miscarriage. I asked him that shouldn't there be an outflow of blood if she had a miscarriage? The doctor said yes. I told him that we had not witnessed anything like that and he was shocked.".
Worried by the doctor's report, Bankole decided to seek spiritual help and so he went to meet with the pastor of his church, Prophet Emmanuel Ogbara, who assured him that God had told him the pregnancy was intact. A couple of weeks later, Bankole went back with his wife to the hospital but they were told that what she had in her womb was fibroid. They left for the General Hospital, Gbagada, where they were asked to see a gynaecologist. Again, the gynaecologist told them that what he saw in Oluwabunmi's stomach was multiple fibroid with no chance of conception.
Read More on
TheNation