The inspiring story of Olajumoke Orisaguna has moved many Nigerians just as Ty Bello as the 'Agege bread-seller turned model
Since she fortunately made her way into British rap star Tinie Tempah's now famous photo-shoot with ace photographer TY Bello, two weeks ago, her story has totally changed for the good.
Here are 4 things you should know about Olajumoke Orisaguna - the former bread hawker from the Sabo market bakery.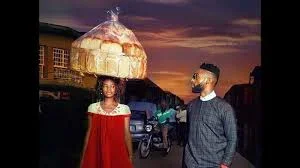 1. She is happily married to a sliding-door installer and they have two children together.
2. She was a trained hairdresser back in Osun state but her family could not afford the necessary 'freedom ceremony'- a passing out ritual that gives a trainee an unwritten permission to branch out and go solo.
3. She is set to start an internship at Make-me hair salon and has been offered an additional internship with Sari signature, a famous Lebanese owned salon on the island.
4. Olajunmoke has been offered a modelling contract and Payporte has also reached out to her to be model on their next billboard campaign.
Source: YNaija