Olajumoke Orisaguna, the 'Agege' bread seller-turned-model, has denied claims that she 'rubbed something' on her body on the day celebrity photographer, TY Bello discovered her.
The 27-year-old mother, who received public attention when she appeared on the cover of a magazine shoot by TY Bello before she was employed as a model, also stated that she is making sure she stays stable and committed to her career as she doesn't intend to go back to the streets.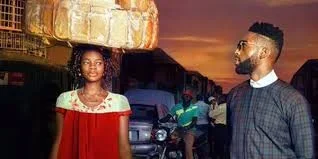 Speaking with the Punch, when asked if she rubbed something on her body the day she was discovered, the model said, "Me? Olajumoke rubbed something? Never! People are just insinuating.
"I thank God for that particular day because I didn't rub anything, even common cream before rushing out of the bakery.
"Where would I have had time for that when customers would be waiting for my bread? I have never used fetish things in my life and never had the tiniest incision on my body.
"I hate having marks on my body. My parents are good Christians and I am sure the photoshoot took place just because of me. I don't use anything; spiritual or physical. I just pray to God and thank Him."