Reno Omokri, former Special Adviser to ex-President, Goodluck Jonathan on Electronic Media on Facebook said that foreigners were used to rig the 2015 elections.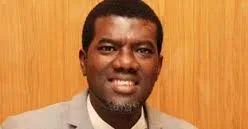 Omokri wrote, "Two Governors of Kano have inadvertently exposed the smoking gun proving that contrary to the Electoral Act, foreigners were illegally used to win elections in Kano and other states.
"On April 13, 2015, then Kano Governor, Rabiu Kwankwaso, speaking live to Channels TV (he can't claim to be misquoted) said, 'Almajiri votes were used to kick Jonathan out of the villa.' Fast forward to April 7, 2017, and current Governor of Kano while speaking at the Kaduna Investment Summit said: "We discovered from our survey is that many of these Almajiris come from the Niger Republic, some from Chad, Northern Cameroon"
"If according to Kwankwaso, Almajiris were used to win the 2015 elections and if according to Ganduje, most of them are foreigners, it means non-Nigerians decided the 2015 elections.
"This is particularly crucial considering that President Buhari got his highest votes from Kano, Kaduna and Katsina in that order and these are the three states with the highest number of almajiri!"