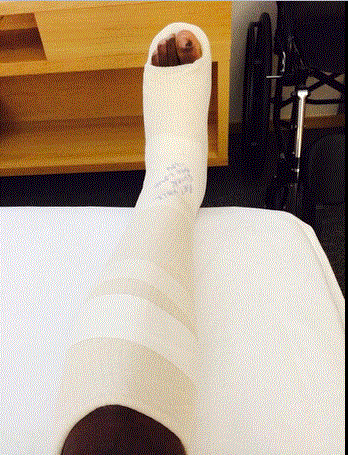 Super Eagles midfielder Ogenyi Onazi has requested that world football governing body, FIFA sanction French player Blaise Matuidi for his horrific tackle that broke his left leg.
Matuidi lunged a tackle on Onazi's ankle with the USA referee only issuing out a yellow card to the PSG player, and the Nigerian stretchered out leaving him with a bandage strapped around his left leg.
Onazi said that he was shocked that FIFA is yet to punish Matuidi despite protests from observers including Argentine legend Diego Maradona.
The Lazio midfielder after undergoing surgery on his ankle said FIFA has not done enough in sticking with the rules of the game.
"The French side will announce to the world before a game that we are very physical so that they can come and commit murder and get away with it, yet FIFA will fold their arms and do nothing," Onazi said.
"I am totally in tune with Maradona, who believes that the tackle on me was worst that what Luis Suarez did to Italian Chiellini."
Onazi pleaded that FIFA goes back and review the incident so as to hand out necessary sanctions to serve as a deterrent to others.
"I want to please beg that FIFA should go back and watch the tape of the game and apply necessary sanctions for the good of the game, otherwise it's Nigeria today, it could be another big country tomorrow. Justice must be done".
The player also took to the social media to thank people for the messages of support he has been getting.
"Thanks to you guys, my friends and fans for your love, support and encouragement. Hoping to do much better next time.
#NaijaSuperFans
" he said via his Twitter page.
Photo Credit:
@OnaziOgenyi
Last edited by a moderator: