Two weeks already into office, the show has not started for Governor Akeredolu in Ondo state, as appointments into key positions have not been made, keeping members of the public in suspense.
Akeredolu was expected to make some pronouncememts in his inaugural speech, but many politicians were disappointed when he kept silent over the appointment of Secretary to the State Government (SSG), Chief of Staff and Chief Press Secretary (CPS).
During the week, however, he announced the appointment of Segun Ajiboye as his CPS, while the waiting game on the other key appointments has continued.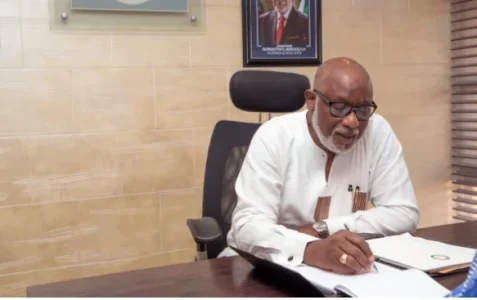 However, lobbyists and party faithfuls have contunue to throng into the Alagbaka state house, some have reportedly travelled to Abuja to talk to those who could possibly make a case for them or their candidates.
Among those believed by some lobbyists that could influence such appointments in Ondo State, as pointed out by some party members, include Minister of Mineral Resources, Kayode Fayemi; governor of Ogun State, Ibikunle Amosun, and a governor from the northern region, who worked to ensure the emergence of Akeredolu as the governor of the state.
According to Nigerian Tribune, it was gathered that politicians in the state are uncomfortable over the influence of the a camp and have advised Akeredolu to be firm in his decision over appointments in order to avoid precipitating crisis within the party.
Some of the appointments where intensive lobbying by politicians and non-party members are mounting, include the
Chief of Staff, Secretary to the State Government, Commissioners for Finance, Agriculture, Natural Resources, Land and Housing, Works,
and some parastals and boards.
One of the APC leaders in the state, who spoke on condition of anonymity, said: "We will not allow people or politicians who were not part of our struggle to be imposed on us. The governor should also resist any influence from outside to prevent any crisis within the party."