National Youth Service Corps, NYSC, members billed to serve as ad hoc staff in the November 26 governorship election in Ondo state have been called upon to avoid being partisan in the course of discharging their duty and avoid all forms of material gifts from politicians.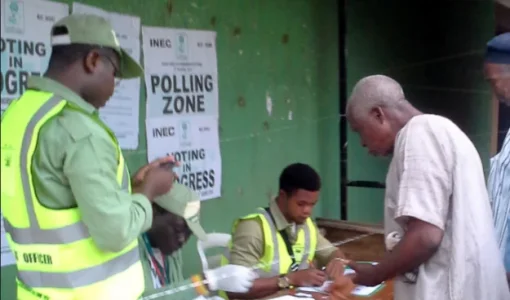 The Director-General of NYSC, Brig Gen. Sule Zakari Kazaure handed this admonition on Monday when he visited Akure, the state capital, urging the corps members to show high level of maturity and neutrality throughout the exercise.
While assuring his members of safety before, during and after the election, the NYSC boss stressed that they should shun all forms of financial and material inducement from politicians during the exercise.
In his words: "I know you can do it, as a graduate, you are worthy in character and learning as well as you are good to go. I want you to show a high level of maturity and neutrality in what you are doing.
"Don't be partisan; shun all form of material gifts from the politicians. Resist all their plans to induce you. Don't eat from these politicians. Don't take anything from anybody. Don't use politicians vehicle that are not provided by the INEC. On that day, be well kitted with your uniform. I want you to be well dress. If there is a problem, don't hesitate to secure you life first. Make yourself safe first before any other things.
"If there is anything happening in your polling booth, get your recorder or your phone to record it, because you may need it in the course of writing your report. All other security agencies will be there to protect you. Get the telephone numbers of DPO, Brigade Commander and when you are making the call, just try to summarise whatever that is happening in your environment."
Kazaure further charged the corps members to be good ambassadors of the scheme, their families and the country at large.