The Ondo State Command of the Nigeria Security and Civil Defence Corps has arrested a pastor of the Christ Apostolic Church, identified as Moses Abiodun for burying fetish items inside his church located at Ikota in Ifedore Local Government Area of the state, Punch reports.
The 34-year-old suspect who hailed from Esa Oke in Osun State was arrested on Wednesday evening by men of the state command of NSCDC following an information that the cleric allegedly used human being for rituals in the church.
The State Commandant of the NSCDC, Mr. Fasiu Adeyinka told newsmen that the suspect was the founder of the C.A.C 'Dagunro' and he was suspected to have buried something suspected to be human head inside his church.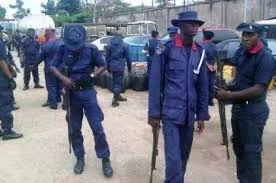 Having got the information, the NSCDC boss explained that his men and went to Abiodun's church where some fetish items were exhumed. Consequently the pastor was arrested.
Adeyinka said, "He was asked to dig some spots inside the church where various items such as cow head, pigeon head tied with colanut, big clay pot wrapped with white clothes and other numerous fetish items and charms were exhumed from the ground both at the entrance and inside the church."
See Photo: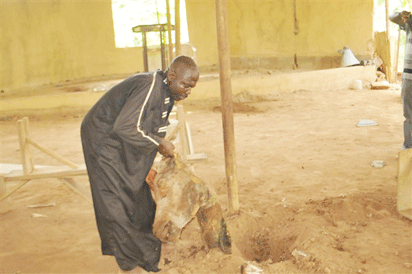 photocredit: Vanguard
- PUNCH
Last edited: