Students of the Rufus Giwa Polytechnic Owo (RUGIPO) in Ondo State have protested the state government's failure to resolve the strike action embarked upon by their institution's lecturers.
According to Sahara Reporters, the students marched to Oba Adesida Road and carried placards with inscriptions such as "Governor Rotimi Akeredolu Should Save Our Future," "Pay Our Lecturers' Salaries," "We are Tired of the Incessant Strike," and "Enough Is Enough."
Temitayo Ayejuyo, the president of the Students Union Government (SUG) of the institution, said the strike action declared by the lecturers has crippled academic and social activities on the campus.
Governor Akeredolu, who later addressed the protesting students, said that the state government has not been able to pay the striking poly lecturers because many of the institution's students have refused to pay their own tuition fees.
The governor said he had met with the rector of the institution, Idowu Ologunagba, and the issue of students not paying their tuition fee was raised.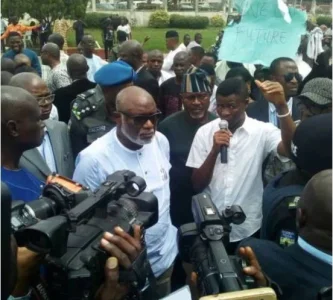 "[Mr. Ologunagba] was here and he complained bitterly that many of you have refused to pay your school fees, and he advised that we must not allow you to write your examinations until you pay up," Mr. Akeredolu told the students.
"But I told him that he should allow you to write the papers but the results should not be released. Surprisingly, he said many of you will not even come back for your results."
Mr. Akeredolu also accused the Academic Staff Union of the Polytechnics (ASUP) of the institution of not initiating talks with the government before embarking on the industrial action.
He told the students to blame the striking union of their school for the current situation which has kept them out of the classroom.