Fearing for his life, Pastor Olusegun Omoniyi of the Christ Apostolic Church, Onigbogbo, Atan Ota, Ogun State, has raised alarm after he was abducted and tortured twice over marital issues he's had.
The 45 year old pastor got married to his wife, Omolade in 1999 and had a set of twins in 2000 but the babies died shortly after they were born. Since then they have not been able to have any child, which resulted in pressures from Omolade's family.
Early in 2015, Omolade was forced to separate from him and 7 months later she developed a strange illness, which eventually killed her.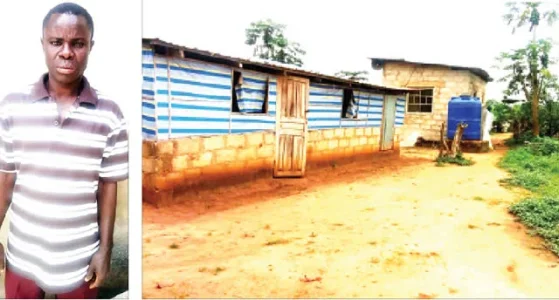 Photo: Omoniyi and the church ( credit: Punch)
"On February 6, 2016, while I was leading a church programme around 10am, four men entered the church. Two of them were OPC members and the others – Adebayo and Stephen – were my wife's relatives. While I was on the altar, the two OPC members said they had come to take me away.
"I told them that I would not follow them since I did not know where they were taking me to. They beat me up and one of them showed me a gun and said if I didn't cooperate, he would kill me."
Omoniyi said he was thrown into a car belonging to his wife's eldest brother, adding that he was blindfolded throughout the journey.
He said he later found himself in Ijoko, the camp of the OPC, saying the men tortured him before taking him inside a clinic where his wife had been admitted.
"In one of the rooms, I saw my wife on the bed. Her legs were swollen and there was blood all over the place. I asked her why she left the house and what I did wrong
He said he sneaked into the clinic's toilet where he made a call to a church leader informing him of his location, adding that the latter informed the police who stormed the area and rescued him.
Reports say Omolade died the following day.
The church leadership sent a delegation to condole with the family and on their way out they were blocked from leaving.
"The OPC members, who had earlier abducted me, came and dragged me to where the corpse was.
"After beating me again, they put me on the corpse and said I must die with her. They put me in a car with the corpse. I couldn't recognise anybody until I saw some policemen who rescued me the second time," he said.
He added that the miscreants have taken over his landed property and that he fears for his life.
Punch