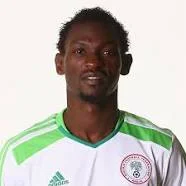 Super Eagles defender Juwon Oshaniwan is not worried that about the competition he will face to retain his place in the starting line up of the Nigerian team.
With Elderson Echiejile back to team after missing out since June following an injury that ruled him out of the World Cup,Oshaniwan could likely find himself on the bench.
Oshaniwan has been a deputy to Echiejile,who has been the preferred first choice at left-back position,but Super Eagles Stephen Keshi has not decided whether to retain him in the starting line-up ahead of Echiejile.
However,the Ashdod FC of Israel defender said that he will respect the coach's decision of who starts,if he ends up not being the one.
"For sure, football is just like that. The whole 23 cannot start a team, it's just 11 that will have the privilege to start," Oshaniwa told Goal.
"Everybody must wait for his own starting time and when your time comes - you grab it.
"I cannot be playing and same time acts as a member of technical crew. Stephen Keshi and his crew got the discretion and right to decide on who they want to start a game. Football as it said goes along with challenge and I'm so happy to have him back," he continued.
"He is a good guy to me anytime and any day. So his return is good for the team. If Echiejile is there, he is going to put up his best and if Oshaniwa is there, he is going to put up his best also."
Speaking on the game against Congo, he said the invited players are focused on making a winning start in Morocco 2015 while assuring that there is no cause for panic.
"For Congo, we are very prepared for the game. As African champions, we are focused on recording a winning start to another Nations Cup campaign. The team is intact, everyone is in high spirit and looking forward to prove why we are champions come Saturday.
"Panic, not at all, that's why I'm a professional. And at every moment for me being on the pitch, I'm always confident of what God has deposited in him. God has been my inspiration and he has guided me all through the tournament," he concluded.
Last edited by a moderator: