Mr. Lucky Igbinedion, a former Governor of Edo State, said Governor Adams Oshiomhole lives in a glass house, accusing him of being 'the biggest thief in Benin'.
Igbinedion made this accusation Saturday in a statement he personally signed.
He was responding to Oshiomhole's accusation that he stole $31million from the treasury of the state when he was governor between 1999 and 2007.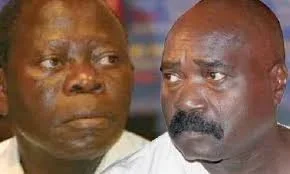 Igbinedion asked Oshiomhole to explain to the people of Edo how he allegedly squandered trillions of Federal Allocations and Internal Generated Revenue he collected in the last seven years.
"He has called everybody in Nigeria a thief; has called former President Olusegun Obasanjo a thief; called former President Goodluck Jonathan a thief, he called (ex-Minister of Finance, Ngozi) Okojo-Iweala a thief, and others. Yet, he cannot prove his cases. I don't think he knows the meaning of a thief.
"Oshiomhole has failed; the people of Edo State now know him better. Oshiomhole is the least qualified person to talk about corruption in the country today because his actions and programmes in the last seven years in Edo State epitomise corruption.