Acting President Yemi Osinbajo Wednesday told leaders of organised labour who staged a protest to the Aso Rock Villa demanding good governance that "corruption in this country is wealthy, powerful and influential".
Osinbajo spoke with the leaders led by president of the Nigeria Labour Congress (NLC) Ayuba Wabba and Bobboi Kaigama, president of the Trade Union Congress (TUC).
Osinbajo said, "We commend you for taking this laudable campaign to the villa on behalf of the Nigerian people. For a democratically elected government, we must constantly report to the people and we must show that we are accountable to the people.
"That is why positions like yours have to be received properly and we must find ways to positively take action on the many demands that were raised.
"When we came on board, there were 22 states that were not paying salaries – some up to six or eight months. That was despite that oil prices were still high. President Buhari decided that salaries of workers across the states must be paid and that was what informed the first bailout".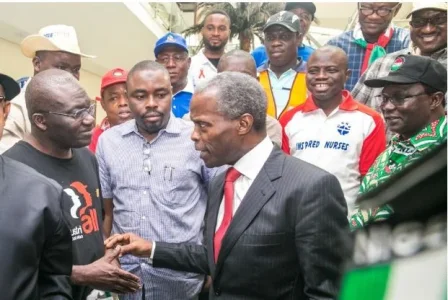 He further said, "The government is committed to ensuring due process and rule of law.
"The President is a process-driven person that accounts for the steps he has taken so far.
"There is no gain without some pain. There is no way you will eat an omelet without breaking an egg.
"There is so much we can do with the Nigerian economy. We are going to be consulting with the labour union and civil societies on our economic recovery and growth plan, which we intend to launch this month.
"There is supposed to be a consultation on it so that we can take a look at the issues that are important, especially to labour and civil societies and we can incorporate them into the plan."