Oyo State Governor, Senator Abiola Ajimobi has felicitated with Vice President Yemi Osinbajo on the occasion of his 60th birthday, describing him as an epitome of loyalty and modesty.
The governor, in a statement issued by his Special Adviser on Communication and Strategy, Mr. Yomi Layinka, said the Vice President's intellectual disposition to governance as well as his passion for the well-being of Nigerians was worthy of emulation.
"Vice President has, since assumption of office, demonstrated his readiness to work assiduously with President Muhammadu Buhari in ensuring the socio-economic transformation of Nigeria through well-thought-out policies and programmes.
"His unflinching support for the president's anti-corruption fight has also helped in sanitizing the polity and ensuring judicious utilization of the available resources for the betterment of the generality of Nigerians," he said.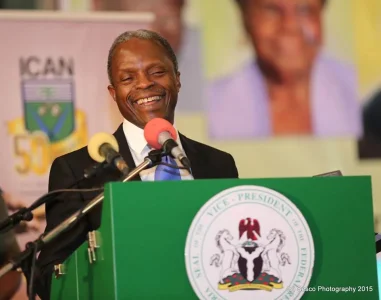 Ajimobi also commended his several visits to the Niger Delta region and constant dialogues with the militants which, he said, had led to the restoration of peace to the restive region and the attendant rise in oil exploration activities and improvement in the nation's economy.
"Even though President Buhari is away in the United Kingdom on vacation, Prof. Osinbajo has risen to the occasion, while still maintaining regular contact with his boss in the running of the nation's affairs,'' the governor said.
While congratulating the Vice President on joining the sexagenarian club, Ajimobi urged him not to rest on his laurel but to continue joining forces with the President in entrenching an egalitarian society that would be the pride of the ruling All Progressives Congress (APC).