Vice President Yemi Osinbajo has queried the Director-General of the agency, Benjamin Dikki, on the alleged N1.45billion legal and consultancy fees scandal in the Bureau of Public Enterprises(BPE).
According to The Nation, the controversial contracts include a curious N950million job for the liquidation of the Power Holding Company of Nigeria(PHCN) when the company had seized to exist and N500million as consultancy fees to a government department.
The DG is also expected to clarify the alleged payment of N27,188,232,208: 20billion as premium for group life and group personal accident insurance for former staff of the defunct Power Holding Company of Nigeria(PHCN).
Another issue is the alleged diversion of N455,266,618;23 meant for the payment of retirement benefits to entertainment allowance for the staff.
The query followed a petition to the Office of the Vice President by a former director of the BPE, Ibrahim Muhammad Kashim.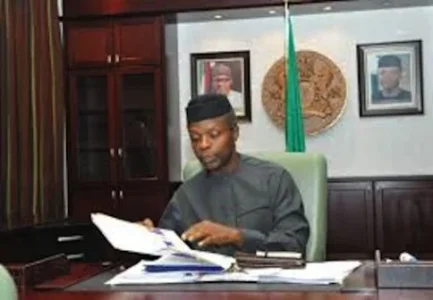 Kashim said the N950million contract for the winding up of PHCN was unnecessary because PHCN was already a "shell" company.
Before the action of the Vice President, the Bureau of Public Procurement (BPP) had asked the Economic and Financial Crimes Commission (EFCC) to probe the contracts.
The contracts were awarded contrary to the advice of the immediate past Attorney-General of the Federation, Mr. Mohammed Bello Adoke (SAN) and the BPP, it was learnt.
Continue Reading:
TheNation