Vice President, Yemi Osinbajo has assured the people of Niger Delta of new vision by the President Muhammadu Buhari's administration.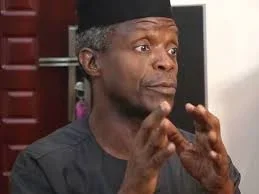 He spoke on Friday during a working visit to Bayelsa State.
Osinbajo noted that the Federal Government will begin a partnership with oil producing states, local governments, oil companies, private sector, and civil society organizations for the rapid development of these communities.
The acting president in his speech added: "We must convene an oil-communities intervention meeting to work out what can be done in the short to medium term and the long term possibilities. We must focus on how to ensure that the people see the benefits of the wealth of the land.
"This new vision will define the future of the region. Oil exploitation by itself cannot suffice to assure our people of decent jobs and a decent income.
"We must make our oil producing communities hubs for petro-chemical industries, small and large. We must make these communities hubs for refining and related activities.
"The Ministry of Petroleum in collaboration with the oil companies is working on several initiatives for host communities including working with illegal refiners in oil bearing communities to participate in modular refineries that will be established.
"A key point they make of the several important points, is that the young men of Bayelsa are entrepreneurs, driven and dynamic and this is critical. Societies are built on the resourcefulness, innovativeness and drive of the people.
"India does not have a drop of oil but it now home to the largest refinery of Petroleum in the world. I want to challenge the young professionals and entrepreneurs to set up A Niger Delta Chamber of Commerce and Entrepreneurship Council.
"Where we can identify those involved in technology, Agriculture, Oil and Gas, manufacturing and the professions. A chamber of commerce properly organized will attract the right kind of local and international partnerships and even funding. I am prepared to work with you on that.
"Today new investments in the oil and gas sector have slowed down so badly because investors have a choice all over the world, even here in Africa, and they will not put their resources in a dangerous or unstable environment.
"This is why our oil producing communities must now refuse to participate in the destruction of pipelines and oil facilities. Aside from loss of revenues this also means further pollution of the land and aqua culture.
"We must not allow anyone to persuade us that we need to destroy investments, pollute our environment to prove a point or to get a few benefits. That is cutting our nose to spite our face!
"From 2015 Nigeria began to lose 1 million barrels of oil daily. Almost 60% of revenues lost to vandalisation. This affected all states, and especially states in the Niger Delta region.
All the requests Udengs made the road to Brass, Airport, etc can only be done when the FG and the states earn revenue.
"We cannot destroy the sources of revenue and expect revenues.