Months after it was announced that the Central Bank of Nigeria was floating the Naira, Vice President Yemi Osinbajo has stated that the government cannot just allow the currency to float.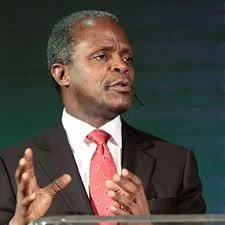 Osinbajo made the remark while speaking at the World Economic Forum in Davos, Switzerland on Wednesday. The VP said, "It is difficult to give a timing about currency movements as you can imagine, but what it is really is that what is the policy that is going to lead to that?.''
"We already have a foreign exchange policy. Now, that policy, that is the point I have been making all along, that stabilising that policy, ensuring that it works fully, is really what we are trying to get to, in our interactions with the central bank, which of course is independent.
"We are trying to get them to see that you need to implement this policy fully. Central bank of course has its own constraints; we have to be careful.
"We simply can't allow the currency to float; we have to look at all of the market conditions and all of that. But really, the point we are making is that we must create the environment which will help the Central Bank as well.
"That will come from an increasing supply of dollars from oil exportation. Once we have more dollars, Central Bank obviously has more confidence in floating the currency."