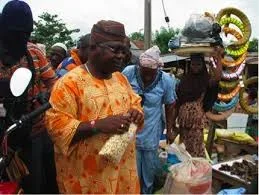 Photo credit: Osun Defender
The Peoples Democratic Party governorship candidate, Iyiola Omisore, has been accused of employing services of a masked suspected terrorist in his campaign trail with the intention of intimidating the electorate.
The #Osun State chapter of the All Progressives Congress on Saturday in a statement said Omisore was spotted during his campaign trail closely guarded by the armed suspected terrorist.
The party according to #Punch, said Omisore was hiding behind security cover to intimidate the electorate and called for a full scale investigation by the security agencies into Omisore's use of masked armed guards.
The party also said it heard, on good authority, that the PDP had brought it in bales of fake police uniforms with substantial arms into the state with the intention of replicating "the scenario of #Ekiti State."
"This country and the democratic process are in terrible times. As the August 9 election approaches, PDP's desperation to win by force of arms rather than the votes of the people is manifesting ever so clearly.
"Political terrorism has arrived in Nigeria democratic space by the evil construct of the PDP."
According to the #APC, the theme of Omisore's campaign so far has been that, "arrangement has already been made to remove Aregbesola from office no matter what he is doing."
"Nobody has heard this fellow (Omisore) articulate a plan of governance for Osun, which can be publicly evaluated as superior to what Aregbesola is doing. All he has on offer is a so-called 'plan' that has been made to replace APC with #PDP government come August 9."
Last edited: