November 9, 2016 will not be forgotten by residents of Otodo Gbame, a fishing community in Ikate, Eti-osa Local Government Area of Lagos state that came under heavy attack from security operatives who forcefully evicted them from the land they had occupied for many years.
According to reports, many of the residents have already been displaced and more face the risk of homelessness.
Reports say a group of young men and police The mob set houses on fire, as many as 30,000 people were displaced, and anyone who resisted leaving was attacked. The attack was also accompanied by loss of lives.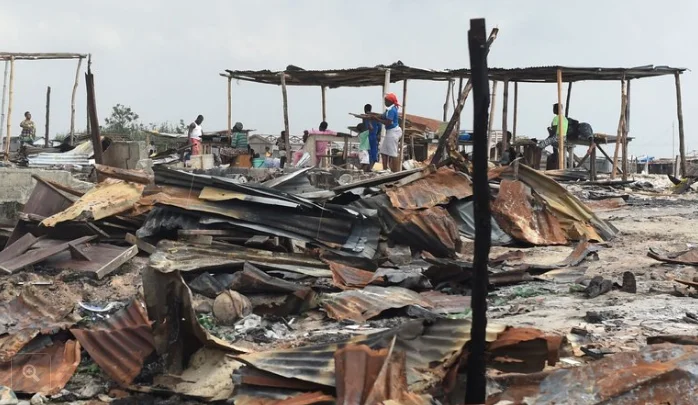 One of the youth leaders in the community told reporters that they had been living amicably for centuries without problems, until recently when the Elegushi family (an influential Yoruba traditional Chieftaincy family) and one Ajoke Adebayo, who owns Children International School (CIS) within the environs started reclaiming and selling their land.
They also came and gave them a week notice to vacate the vicinity. The notice, however, was not signed by anybody. The illegal notice had not even expired when they mobilised thugs accompanied by the police to unleash mayhem on them, reports say.
The Lagos State Government however denied involvement in the demolition of the waterfront slum community situated on the edge of Lagos lagoon. The state's commissioner of Information, Steve Ayorinde said while the police succeeded in bringing to a halt the "deadly clashes which occurred as a result of continued disagreement over tolling and other sundry issues, the large part of the shanties had already been torched and razed down before the combined team of fire brigade and emergency rescue officers got to the scene on the night of Wednesday, November 9th.
Before the attack, the world was alarmed by what medical authorities claimed was an outbreak of a strange disease in Otodo Gbame community. That was early 2016, precisely around January and February. About 25 children, who were aged between three months and three years, reportedly died of what later came to be known as Fatal Febrile Rash Illnesses (FRI).
The peculiar symptom of the disease is boil which develops on the body of the children. They would later die within three to four days of contraction.
Otodo Gbame, according to the narrative, was founded by people who came from Ajido in Badagry area of Lagos. The community is said to have been in existence for more than 200 years.
As fishermen, the ocean had attracted the people, and following their successful sojourn on the water, they decided to live in the area and build a community.
Where are Otodo Gbame residents now? They are now suing to gain title to the land. But with the notoriety in slow pace, and who-knows-who of Nigerian courts, the judgement could probably be likened to: waiting for godot.