More than 300 people have been killed after a mudslide and heavy flooding in Sierra Leone.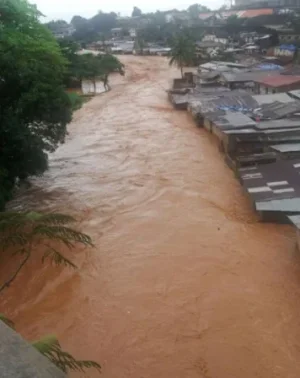 Relatives were left digging through mud in search of their loved-ones, as a mortuary in the capital of Freetown was overwhelmed by bodies.
Houses were submerged in mud after a night of heavy rain that saw a hillside in the Regent area collapse, with roads described by witnesses as being turned into "churning rivers of mud".
A coroner's official said that more than 200 bodies had been taken to the city mortuary, which was left struggling to cope. The Red Cross said the death toll had risen to 312.
However, a precise death toll is not yet clear and is likely to rise as many people might have been asleep when the mudslide happened in the early hours of Monday.
An estimated 2,000 people have also been made homeless after heavy rains caused properties to disappear under water.
Speaking at the scene, Sierra Leone's Vice President, Victor Foh, said: "It is likely that hundreds are lying dead underneath the rubble."
He added: "The disaster is so serious that I myself feel broken. We're trying to cordon (off) the area (and) evacuate the people."
People cried as they looked at the damage under steady rain, gesturing towards a muddy hillside where dozens of houses used to stand.
Sinneh Kamara, a coroner technician at the Connaught Hospital, told local media that the number of those killed had overwhelmed the facility.
"The capacity at the mortuary is too small for the corpses," he told the Sierra Leone National Broadcasting Corporation.