The Senate Minority Leader, Sen. George Akume (APC-Benue), on Thursday said part-time legislature would not reduce the cost of governance in Nigeria.
Akume made this known when he reacted to the recommendation of delegates at the National Conference in Abuja.
The conference had on Wednesday adopted its Committee on Public Service recommendation for part-time legislature in the country.
The former Head of Service, Ebele Okeke-led committee had recommended part time legislature for federal and states to reduce cost of governance.
Akume told newsmen that there was no way a part-time legislature could reduce the cost of governance in the country.
"I do not believe that part-time legislature will help in appreciable terms in the reduction of cost of governance in Nigeria. This is so because it cannot serve in any way as antidote to executive impunity and corruption that has over the years been the cause of high cost of governance in the land," he said.
Akume argued that the proposal would not work because having a full-time legislature was the best for the nation.
"In a nutshell, as far as I am concerned, such a proposal cannot see the light of the day. This is because those who put the present legislative system in the country in place did the right thing. It is modeled after other democratic countries like the United States of America, Canada, India, Britain etc.''
The lawmaker, however, admitted that the National Assembly as presently constituted had not done enough to facilitate good governance in the country.
He said the legislature had a lot more work to do to ensure that the executive was checked constantly to ensure good governance, especially with regards to the budget.
Earlier, at plenary, Senate Leader, Sen. Victor Ndoma-Egba (PDP-Cross River), had said that June 5 marked the last legislative day of the 3rd session of the 7th National Assembly.
Ndoma-Egba said that the Senate would adjourn to resume on June 24.
The Senate President, David Mark, who presided over the session, said that there would be no end of session speech until the Senate reconvened on June 24.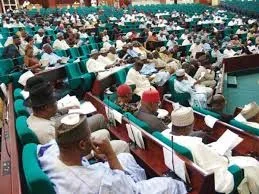 #davidmark