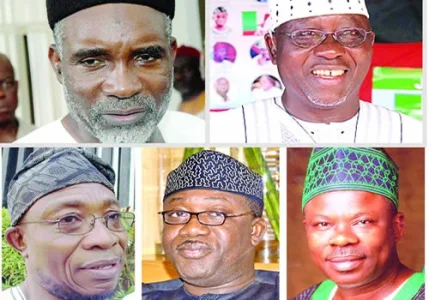 With the impeachment of Governor Murtala Nyako of Adamawa State on Tuesday and the commencement of impeachment proceedings against his Nasarawa State counterpart, Tanko al-Makura, so soon after the defeat of Governor Kayode Fayemi in the Ekiti State governorship election, it is safe to conclude that governors of the All Progressives Congress (APC) have become endangered species.
In days before the June 21 governorship election in Ekiti State, stalwarts of the APC were upbeat. They were apparently reveling in the projections that the elections would be a walkover and that the people of Ekiti, being progressives, would only vote for a party that wore that toga. In Abuja, many of the stalwarts boasted that the signal for an end of the road for the Peoples Democratic Party (PDP) would be flagged off during the Ekiti election.
But the outcome of the election, which saw the candidate of the PDP, Mr Ayodele Fayose, defeating the incumbent governor and candidate of the APC, Fayemi, forced many of the chieftains of the party into their shells.
With the 2015 general elections drawing closer, it is apparent that the outcome of the isolated elections in Ekiti and Osun states will provide some sort of barometer and insights into the likely outcome of the general elections.
Click here to read more
Source: