Victor Umeh, former Chairman of the All Progressives Grand Alliance, APGA claims that he helped former Governor Peter Obi complete his term in office.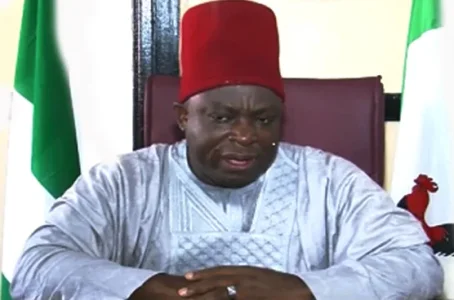 Umeh in an interview with VANGUARD talked about Obi's impeachment in 2006 and how he begged former Biafran Warlord Odumegwu Ojukwu to help reinstate him. He also talked about how the Peoples Democratic Party, PDP planned to throw Obi out of office one year after his return.
Umeh said, ''They would call him youth corps governor. So I read that in the constitution and developed it in the interview published in August 2006. I told Ojukwu that if we reinstated Peter Obi from that impeachment he would file that tenure interpretation action and when I told Peter, he said he would not do it. When I told him to do it he refused initially. He was afraid of Obasanjo and the PDP so when they pushed him out, he was ready to seek that interpretation of the constitution at that time and I used that to convince Ojukwu. ''
Umeh went on to accuse Obi of stabbing him in the back despite all he did for him. He vowed to write a book detailing the incident.