Elders of the Peoples Democratic Party (PDP), under the aegis of PDP Rescue Group, led by former Gongola State governor, Ambassador Wilberforce Juta, has called on the new national chairman of the party, Senator Ali Modu Sheriff, to resign.
The group listed 7 reasons why Ali Modu Sherrif should resign as the acting chairman of the Peoples Democratic Party. These are
- The group argued that his resignation would spare the opposition party further embarrassment.
-Sheriff was an imposition on the party and was never nominated from his North-East zone.
- His home state, Borno, had already rejected the former state governor, and the need to commence the search for "persons with high, strategic insight and fear of God almighty" to lead the party.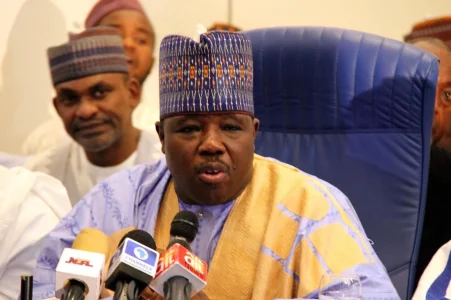 - Decision of National Executive Committee (NEC) to appoint Sheriff is against the will and wish of the generality of faithful PDP members.
- Most party faithful do not see in Senator Sheriff a model of impeccable integrity that the PDP badly needs to lead it at this critical moment,"
- Ali Modu is a leader lacking in integrity and skills and will throw the party and nation into inefficiency, indiscipline, disorderliness and even chaos.
- Sheriff's emergence was "embarrassing," as he was smuggled into the contest and must resign.
They stressed that "no state from the North-East submitted his (Sheriff) name and that they do not know how he came into the picture.
"It is not right for him to impose himself the way he was imposed. It is honourable for him to step down"
They noted that while they would not call Sheriff's emergence illegal, since he was approved by NEC, "what we all know is that it was not properly done. The entire PDP family is not happy with what has happened. He has to resign."