Fresh crisis in mounts in Peoples Democratic Party (PDP) has the National Working Committee (NWC) shunned a directive by the party's governors asking the Acting National Chairman, Prince Uche Secondus, to hand over to the National Secretary, Prof. Wale Oladipo.
The governors, in a communique at the end of a meeting in Abuja on Wednesday, ordered Secondus to hand over to Oladipo, pending the emergence of a substantive chairman from the Northeast.
The governors, in the communiqué read by Ondo State Olusegun Mimiko, frowned at the refusal of Secondus to respect the judgment of an Abuja High Court, ordering him to vacate the office for a member from the Northeast.
"We take cognisance of the judgment by the court in Abuja, which ordered the acting chairman to vacate office for any other person from the Northeast.
"Our party constitution has enough provisions for that and the necessary process has been put in motion," the communique said.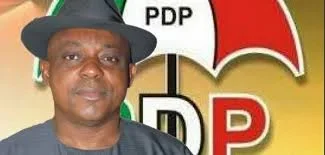 But a statement yesterday signed by PDP's National Legal Adviser, Mr. Victor Kwom, insisted that Secondus remained the acting chairman.
The statement said: "The NWC of the PDP wishes to assure members of the party nationwide that there has not been any change in the leadership of the party at the national level.
"For the avoidance of doubt, the statutory organs of the party, the NWC, National Caucus, BoT and NEC will be meeting next week to deliberate on developments, including the replacement, from the Northeast of Alhaji Adamu Muazu, who resigned as the national chairman of the party."
The statement added that the replacement would be in strict adherence to the party's constitution, as specified in Section 47(6).
Source: TheNation