Manchester City manager Manuel Pellegrini has said that his side's seven goals against Sheffield United on Wednesday night in the League Cup could signal the start of a goal-scoring frenzy for the Premier League champions.
City's victory over their Championship (second-tier) opponents was their first win in all competitions and have now progressed to the fourth round of the championship.
Pellegrini said that he hopes they can maintain the momentum from that spectacular 45 minutes against Sheffield when they play Hull City on Saturday.
"It was a very useful match (against Sheffield Wednesday) for our team," he told a news conference on Friday.
"We were not scoring too many goals here at home. We did not win the last four games. We did not play badly but we didn't win.
"It is always important to win in the way we did on Wednesday and I hope this can continue in the future - especially tomorrow against Hull because in the Premier League, we cannot drop many points."
Pellegrini is aware of the pitfalls awaiting his side at Hull though, after a hard-fought match there in the previous campaign.
"Hull is a difficult team to play away. Last year, it was not one of our best games because Vincent Kompany was sent off in the first 10 minutes but we played really well and we won," he said.
"I hope this year we can do it in the same way but I am sure we will find it tough at their home because they always play very strongly - especially in aerial duels."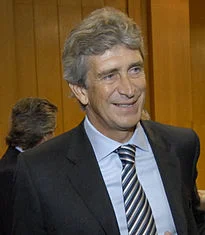 Last edited by a moderator: