The English FA released an 11-man team for the 2015/2016 season this week. The selection which cuts across 5 teams consist of player who have done well in their roles this season. Read here some statistics that qualifies them for their spots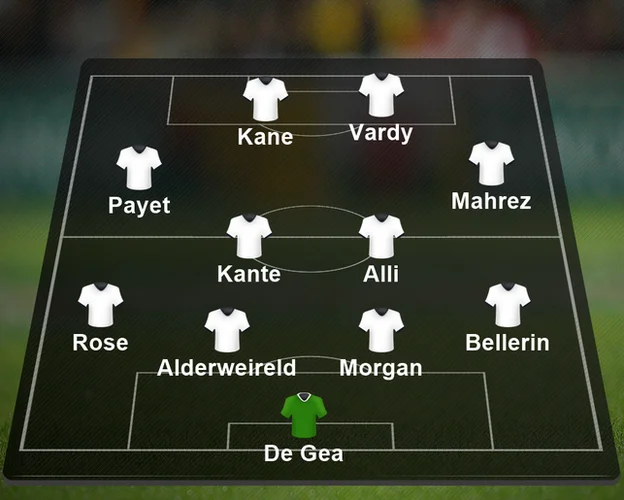 David De Gea:
David de Gea has kept more clean sheets this season than in any other previous Premier League campaign (14).
Danny Rose:
Only Charlie Daniels (5) and Hector Bellerin (4) have supplied more assists among defenders than Rose (3) this season.
Toby Alderweireld:
Only Scott Dann (5) has contributed more goals to his side among defenders than Alderweireld (4) this season.
Wes Morgan:
The Leicester captain has made more blocks (34) than any other member of the Foxes' team this season.
Hector Bellerin:
Only Mesut Ozil (18) has supplied more assists for Arsenal than Bellerin (four) this season.
Dimitri Payet:
Dimitri Payet has had a hand in 18 league goals this season for West Ham, eight more than any other player - nine goals, nine assists (Carroll next on 10).
N'Golo Kante:
Kante has made more tackles (149) than any other player in the PL this season.
Dele Alli:
Eight of Dele Alli's 10 Premier League goals have come away from home.
Riyad Mahrez:
Only Jamie Vardy (28) has been directly involved in more goals than Mahrez (27 - 16 goals, 11 assists) this season.
Harry Kane:
Harry Kane (24) has scored more Premier League goals than Aston Villa this season.
Jamie Vardy:
Jamie Vardy's goals (22) have won Leicester 21 points in the Premier League, more than any other player for any team.