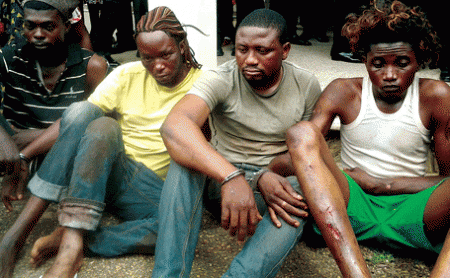 An unsuspecting womanizer would easily fall into their traps seeing their feminine faces made-up with cosmetics, with weave-on hairdo that dangles on both sides of their broad shoulders.
Their coated lips look inviting. No doubt, countless men must have fallen prey to them. Many passersby who thronged the state headquarters of the Police command at Eleiyele, Ibadan to catch a glimpse of these attractive "women" could not hide their disbelief.
Though, their chests were flat which should convince doubting Thomases that the suspects were not women, some still insisted on seeing their private parts due to their looks.
Click here to read more
SOURCE: #Vanguard
#Ibadan
Photo credit: #Vanguard
Last edited: