A six-year old Boko Haram victim, Ali Ahmadu, has survived a corrective surgery in his spinal cord.
He can now walk, after 14 days in the hospital.
While being ferried to Dubai on September 10, all he could mutter repeatedly in Hausa was: "Ina so insake tafiya da kafana…Don Allah ataimakamu…Don Allah. Ina so in je makaranta". ("I want to begin to walk with my legs again. For God's sake, assist me. I want to go to school").
Now Ali can walk as he "miraculously" stood up from his hospital bed to the amazement of his shocked doctors. They had projected that it would take him four weeks to walk.
The surgery at Zulekha Hospital Sharjah in Dubai, United Arab Emirates was coordinated by Dr. Nishit Bhargava.
It was bankrolled by the Dickens Sanomi Foundation with $48,000 (N17.5million).
The Foundation was established by Mr. Igho Sanomi who owns the Taleveras Group.
Sanomi said: "Miracles do happen. For those of you who don't believe in God, better believe in God now.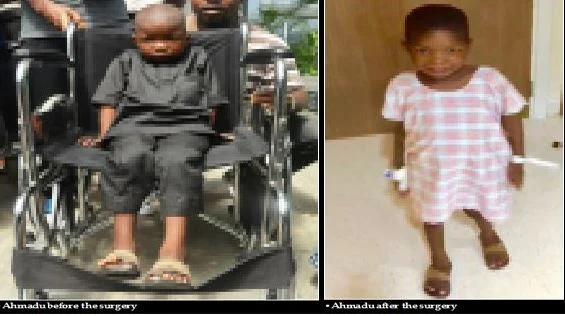 "This is Ali Ahmadu who was run over by Boko Haram terrorists in 2014. The boy and his pregnant mother were left under a tree for three days. The boy was bleeding from mouth and nose throughout the agonising days.
"Ali's spinal cord was damaged and he couldn't walk. For three years, help was needed. God made it possible after five to six hours of surgery and 48 hours in intensive care. Little Ali could walk again. This happened today to everyone's surprise.
"This determined six-year old boy got off his bed and decided to walk despite doctors' expectations that he would need physiotherapy to learn to walk again at least three weeks after surgery. Today, Ali walked after just seven days.
"This made my day and I am so proud of the Dickens Sanomi Foundation for making this surgery possible financially."