Governor Simon Lalong has described Tallen's decline of Ambassadorial nominee as an exhibition of political maturity.
The governor, who said he was shocked about the appointment said Plateau is always on the front-burner when it comes to politics, that shows her maturity not just in Plateau but as a national figure.
"Once things are not done properly, it is better for a leader and a mother to come out and say that things are not done properly in the interest of the state.
"When I heard the announcement, I was very shocked because what happened was without proper consultation," he said while interacting with newsmen in Abuja.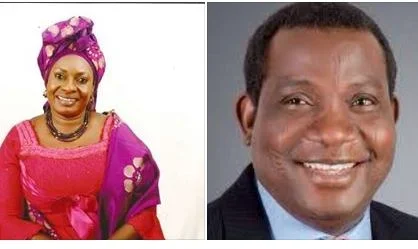 The governor said that his administration was working toward addressing the issue of balancing appointments, and pointed out that he had already discussed the issue with Buhari in their last meeting.
Lalong said that the opposition was already saying that the appointments were lopsided, but stressed that his administration was a government of change and they would only do what would favour all sections of the North-Central state.
He appreciated Tallen for her decision, and assured the people that their quota would be filled and he would go further to ensure that distinguished sons and daughters of Plateau get more appointments.
Related
:
Pauline Tallen Rejects President Buhari's Ambassadorial Offer