Delta Queens and Falconets forward, Chinwedu Ihezuo has expressed appreciation for the opportunity to given to her to help Nigeria's U20 qualify for the 2016 FIFA world cup, following the Falconets 3-1 aggregate win over South Africa.
The 18-year old striker also thanked Nigerians for their support while they battle for the ticket, adding that they will make Nigeria proud when the tournament begins next year in Papua New Guinea.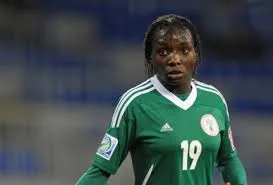 Ihezuo's goal gave the Falconets a 1-0 win against South Africa in Tembisa, which handed them a 3-1 aggregate win for their eighth appearance at the football showpiece.
"I want to say a very big thanks to all Nigerians for their support and I promise that we will make Nigerians proud at the World Cup," Ihezuo told
Goal.
"I feel very happy for the opportunity to help my country get the World Cup ticket. It is a great joy for me that I was involved in the qualifying series.
"It has not been easy for us in training, the South Africans really gave us a tough time but our keeper really helped us."
She revealed how coach Peter Dedevbo's strategy helped cage
Basetsana
before their home fans while dedicating her goal to teammate Charity Adule.
"Coach Peter told us to first attack and we should calm down, play our game that the goals would come. And that we should make sure we score our goals in the first half," she continued.
"I'm dedicating my goal to my family and Charity (Adule) who is celebrating her birthday. She has always been there for me, even when life was difficult.
The 18-year-old scored six goals in the qualifying round to emerge a joint top scorer alongside Ethiopia's Loza Abera whose side failed to qualify at the expense of Ghana.
Nigeria finished as runners-up in the 2014 edition staged in Canada after bowing in the final to Germany, and Ihezuo's only goal of that championship came in Nigeria's 2-1 defeat of South Korea in the group stage. Goal