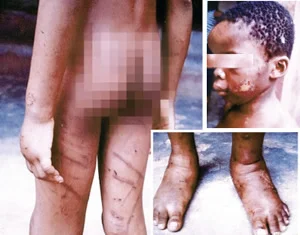 In an act of brutality, a police sergeant allegedly brutalised his eight year-old daughter and left her for dead due to the fact that she refused to confess to charges of witchcraft leveled against her by a Pentecostal church her father and his second wife frequented.
This officer of the law, Mr. Ita Ayamba from Ibiaku community, Mkpat Enin Local Government Area of Akwa Ibom State, is responsible for the maltreatment of his own flesh and blood.
According to the PUNCH Newspaper, Ita allegedly paraded the little girl along the village streets naked, declaring to all that his daughter, Goodness, was responsible for his retrogression in the Police Force due to her powers of witchcraft.
Witnesses to the scene said, "I don't see how a child of that age could become a clog in the wheel of her father's progress in the Police Force. We need to tell each other the truth. Progress in one's career depends on the efforts one has made academically."
The police sergeant was said to have tortured his daughter for hours in an attempt to make use of severity to force a confession of witchcraft from her. reports revealed that this father hit his daughter across the chest with the butt of his AK-47 rifle.
"None of us could go close to Ita to rescue Goodness as he had threatened to shoot anyone that dared.
Nurses at the hospital where Goodness was currently receiving treatment at the children's intensive ward said that her condition was stable but that her bones and chest cavity had been badly damaged.
The Federation of International Women Lawyers have said that they would do everything within their power to ensure that Ita was brought to justice.
The policeman is nowhere to be found and is yet to be arrested by the police.