An anti-riot policeman, Corporal Aliyu Hamisu, reportedly shot his colleague, Joshua Mathew, dead at a bank in Zaria, Kaduna State on Friday.
He also killed a young boy who was at the bank to withdraw money from an ATM and an Okada rider.
The circumstances behind the incident were hazy, but it was learnt that Hamisu and Mathew, a sergeant got into an argument which led to the former shooting the latter and two others.
There are different versions of the incident. While one version said Hamisu shot at Mathew, another version said it was the other way round.
But the News Agency of Nigeria reported that the quarrel between the two officers ensued following a discovery that the sergeant had been short-changing the corporal.
Northern City News gathered that Hamisu was shot on the legs by other policemen at the bank and subsequently mobbed by the crowd.
The incident caused pandemonium in the area and forced the bank to hurriedly shut down its operation as motorists and everyone scampered to safety on hearing gunshots.
An eyewitness, Prince Sam, who wrote about the incident on an online forum, Nairaland.com, said Hamisu of MOPOL 47, Zaria gunned down his colleague and two bank customers before he was killed by other policemen.
He wrote, "I was there when it all went down but I was afraid to take pictures of the incident with my phone. I woke up early this morning (Friday), made my way to the bank, Manchester Road precisely where GT Bank was situated. I got there, but there was no money at the ATM. In fact, I went round the whole of Zaria but none of the ATMs was loaded with money.
"I got to Diamond Bank roundabout and made my way to Zenith Bank. I got there but the crowd there was something else; so as I was about leaving, two of the MOPOLS (anti-riot policemen) guarding the bank were arguing. One of them asked the other to hand over his rifle to him or he would shoot him.
"Like a joke, the guy cocked his rifle. His name was Ayuba Hamisu while the other one was Joshua Matthew. Both of them were sergeants attached to Mopol 47 squadron Zaria. So Joshua handed over his rifle to Ayuba knowing that Ayuba had already cocked his rifle and anything could happen, while the rest of the MOPOLS were just looking in amazement. The next thing I heard was 'lie down.' At this moment, I knew something terrible was about to happen. So I left the premises of the bank, started my vehicle and drove off immediately.
"It was not up to 30 seconds when I heard a gunshot, people started running for their dear lives, I parked my car to know what was going on, then I looked down towards Zenith Bank and saw two people lying dead on the ground, including Joshua."
Sam further narrated that after shooting three persons, Hamisu shot into the air, chanting Allahu Akbar. He was reportedly shot by his colleagues on both legs.
The Kaduna State Police Public Relations Officer, Aliyu Usman, confirmed the incident to NAN. He however said he had yet to get the full details.
See photos of the mob below: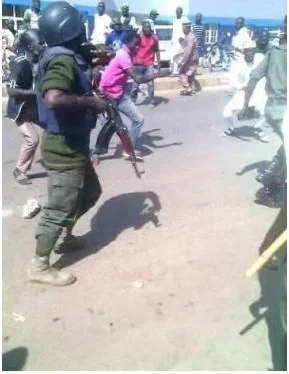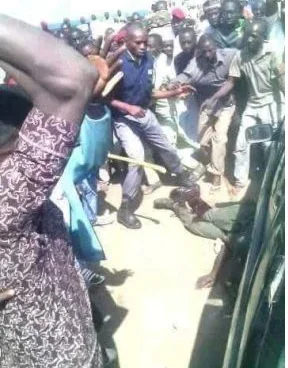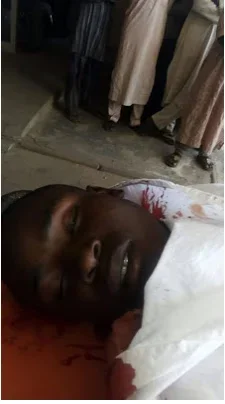 Late Matthew