American porn star and sex educator Jessica Drake has joined the league of women accusing Republican presidential nominee Donald Trump of sexual harassment.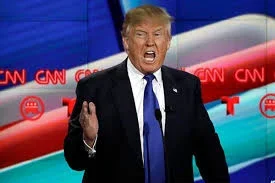 Jessica is the 14th woman to accuse Trump. According to DAILY BEAST, narrating her experience with Trump the Porn star said, "[In 2006], I was working for Wicked Pictures, an adult film company, at a golf tournament in Lake Tahoe.
"He flirted with me and invited me to walk along the golf course with him, which I did. During that time, he asked me for my phone number, which I gave to him. Later that evening, he invited me to his room. I said I didn't feel right going alone, so two other women came with me."
"When we entered the room, he grabbed each of us tightly in a hug and kissed each one of us without asking permission. He was wearing pajamas. A bodyguard was also present. He asked me about details on my job as an adult film star — about shooting porn, and he also asked us about our personal relationships and whether we were married or single. We answered his questions. It felt like an interview. About 30 or 45 minutes later, we left his room."
She claims that Trump later called her to ask, "'What do you want? How much?" and then to offer her $10,000 for sex. Drake, who called Trump a "sexual assault apologist" during Saturday's press conference, went on to say that "this is not acceptable behavior for anyone, much less a presidential candidate."