PremiumTimes, an online news portal has uncovered one of the most fraudulent crude oil deals executed by the Goodluck Jonathan administration, which saw a campaign official and some other suspected cronies of the ex-president smiling to the banks with up to 50 per cent commission from the proceeds of a foreign crude oil lifting contract, turning them into instant billionaires.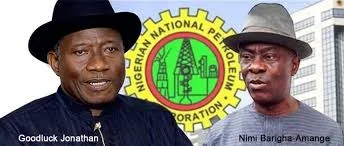 In the middle of the shady deal is a Nigerian oil and gas company, Sarb Energy, which acted as a dodgy middleman in a non-transparent government-to-government crude oil sale between the Nigerian and the Zambian governments.
Sarb Energy, incorporated on September 19, 2008, was specifically established for the controversial deal.
Source has established that Sarb Energy has link with at least one political associate of former President Jonathan, whose five-year reign as leader of Africa's largest oil producer was characterized by allegations of massive corruption, especially in the oil and gas sector.
The company's directors at inception, according to records at the Corporate Affairs Commission, were Nimi Barigha-Amange, a former Peoples Democratic Party's senator from Bayelsa (2007-2011), who also served as director of planning, research and strategy for Mr. Jonathan's re-election campaign in 2014; Sylva Ogbogu, a retired Brigadier General; Akpan Ekpene, the managing director of the company, who executed the deal; and Ogba Properties and Investment Company Limited, a company whose real ownership remained unclear.
Continue reading to see
Evidences