Justice Adeniyi Ademola of a Federal High Court in Abuja on Wednesday resumed sitting following his recall by the National Judicial Council last week, Vanguard reports.
The NJC had recalled the six judges who were arrested by the DSS and paraded as corrupt.
Chief Okoi Obono Obla, Special adviser to President Muhammadu Buhari on prosecution on Tuesday has said that the National Judicial Council (NJC) was in a hurry to clear judges whose integrity were in question, adding that there are still several petitions against Ademola including the one filed by Chris Uba.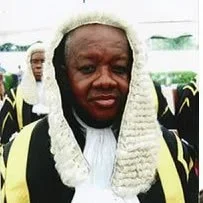 "It is wrong for a judge to be under criminal investigation because a Judge should be above board. He should not sit until his appeal is heard and determined", Obla said.
This development is coming as the Federal Government, on Tuesday also, filed seven additional grounds of appeal to challenge the judgment that exonerated Justice Ademola.
The record of the appeal was settled yesterday by the prosecution at the Abuja Division of the Court of Appeal.