President of Ohanaeze Youth Wing, Mazi Okechukwu Isiguzoro, while speaking with PUNCH correspondent on behalf of Ohanaeze Ndigbo, said Ogbonnaya Onu and Chris Ngige deserved 'more influential' ministries than Science and Technology, and Labour and Productivity, respectively.
Okechukwu Enalama should have been appointed Minister of Finance", he said.
Igbo ministers did not get juicy portfolios, except perhaps Ibe Kachikwu and Rotimi Amaechi, who are our brothers from the South-South.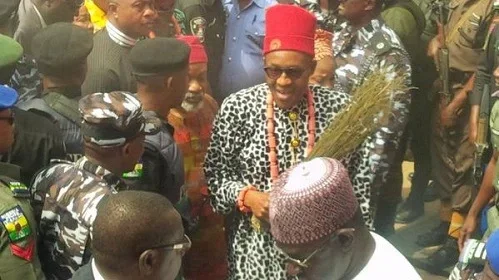 "We are not happy that we did not get the juicy portfolios, although we are happy that our brothers from the Niger Delta got.
Opinion leaders and socio-political associations in the South- East believe that Igbo were deliberately denied 'juicy' ministries by President Muhammadu Buhari.
Leaders of the foremost Igbo socio-political body, Ohanaeze Ndigbo, and Njiko Igbo, another prominent pan-Igbo association, described the portfolios assigned to Igbo ministers as 'disappointing.'
Isiguzoro said, "We are disappointed that somebody of the calibre of Dr. Ogbonnaya Onu was assigned to Science and Technology ministry, even Dr. Chris Ngige should have been appointed as the Health Minister instead of Labour and Productivity.
"Nevertheless, the era of impunity has gone and we expect all the Igbo ministers to perform excellently.
"We expect them to close ranks and work towards developing Igboland."
Also, President of Njiko Igbo, Reverend Okechukwu Obioha, said Buhari relegated Igbo ministers to the background in his cabinet.
But he admitted that the association was not surprised.
He said, "They are adding more salt to the injury, we expected that. We can see that we (Igbo) are not wanted in this country. At the moment, the sharing of the national cake is between the North and the South-West.
"What will Ngige be doing as Labour and Productivity minister when the Federal Government is not employing anyone, or creating jobs?
"Even the Foreign Affairs portfolio that was given to an Igboman (Geoffrey Onyeama) is of no consequence because already Buhari has travelled to most of the countries and he will continue to do so.
"He has travelled in six months more than the immediate past president travelled in six years.
"So the Foreign Affairs minister will just be a rubber stamp.
"Buhari has taken the Ministry of Petroleum Resources for himself, making an Igboman the Minister of State.
"So, he (Buhari) has virtually given the Igbo nothing.
"But the problem is this will lead to more agitation for Biafra," Obioha said.