President Muhammadu Buhari-led Federal Government has released N9.8 billion for polio eradication and immunisation programme.
Dr Emmanuel Odu, Acting Executive Director, National Primary Health Care Development Agency (NPHCDA) made this known on Friday in Abuja during a news conference on the recent polio outbreak in the northeast.
He commended President Muhammadu Buhari for his commitment and the timely release of the fund budgeted for polio eradication and immunisation programme.
He said that the agency believed that similar arrangement would be repeated for 2017 to push toward delisting Nigeria as polio endemic country.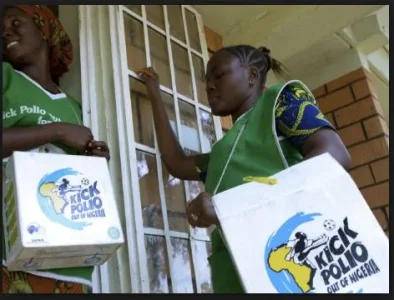 Odu said the federal government has released the fund as part of its substantial investment in its determination to save lives, protect Nigeria children and pregnant women.
According to him, after two years without wild polio virus in the country, Nigeria confirmed that three children were paralyzed by the disease in Borno.
"The cases which originated from Jere, Gwoza and Monguno local governments of Borno as a result of the activities of Boko Haram insurgents", he said.
He said as part of the response to the outbreak, the agency was to mobilise personnel to the area to strengthen routine immunisation and notify all the stakeholders.