President Muhammadu Buhari has written to Girl Child education activist Malala Yousafzai on steps the Federal government is taking to secure the release of all the kidnapped Chibok schoolgirls.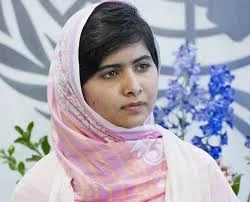 President Buhari's letter was written in response to an earlier letter sent to the President by Malala. In the letter, dated January 10, 2017 and signed on his behalf by the Minister of Information and Culture, Alhaji Lai Mohammed, the President said the gallant troops of the Nigerian military have recently scored a great victory by seizing control of the Sambisa Forest, the last stronghold of the Boko Haram elements who are responsible for the girls' abduction.
On the welfare of the 21 Chibok girls who regained their freedom on October 13, 2016, the President said the Federal Government "has taken over the responsibility for their personal, educational and professional goals and ambitions in life."
''They are being given comprehensive medical, nutritional and psychological care and support, and anyone who has seen them in recent times will attest to the fact that their reintegration back to the society is progressing well.
"The Federal Government believes that it is not too late for the girls to go back to school, and everything will be done to ensure that they continue their studies."