Minister of finance, Kemi Adeosun, says President Muhammadu Buhari-led federal government at this point, has no choice but to borrow in order to invest in the country's dying economy.
Adeosun, while speaking at the town hall meeting in Abuja, yesterday, said the federal government is very conscious and conservative about its borrowing, so as not to leave a heavy debt burden for future generations.
"We have a very conservative borrowing programme, and we must borrow; because to do rail — the rail that we have now was done in the colonial era - there has been really significant upgrade," she said.
"We have urgently to do rail to enable agriculture and solid minerals to be competitive, so I really don't see that there is any option than to borrow.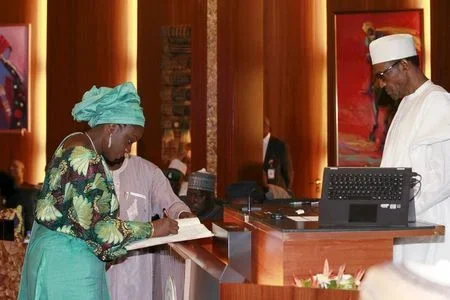 "We will borrow sustainably; we would borrow conservatively to make sure that we don't burden future generation."
"This is why we have approached the World Bank and export credit organisations that provide concessional loans. We are taking concessional loans before going for commercial loans."
She said the size of the public sector is an evidence of the failure to develop the private sector, adding that the latter should be the major employer in the country.
Adeosun said investments must be made in infrastructure to create an environment for the growth of the private sector.