The Spiritual Leader of INRI Spiritual and Evangelical Church, Oke-Afa, Isolo, Lagos, Primate Elijah Ayodele, has condemned the killing of Christians cross the country.
The primate in an interview with
Dailypost
condemned "Big Pastors" for keeping quiet in the face of unabated attacks against the Church.
Primate Ayodele cited the slitting of the throat of a woman preacher in Abuja; 74-year-old woman beheaded in Kano; how they nearly killed another poor carpenter for not observing fast; attacked a Church in the Niger for holding a service on Friday,hijab ruling on the Southwest and so on.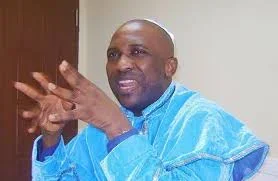 "People like (Enoch) Adeboye, (David) Oyedepo, (Folorunsho) Kumuyi, and other Big Pastors that people believe so much are holier than thou have kept quiet".
Citing instances of contentious religious issues in states, Primate Ayodele said: "Imagine what is happening in Osun State. The government said female Muslims students can wear hijab to school.
"Somebody came out to say, 'okay, Christians too should wear white garment to school'. The governor criticised him and so-called Christian leaders came out to say the governor is right.
Source: Dailypost