Primate Babatunde Elijah Ayodele (JP) of the INRI Evangelical Spiritual Church, has released his prophecies for 2017.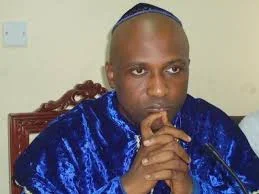 See prophecies as culled by DAILY POST:

Banking Sector
The Federal government must work on the Central Bank of Nigeria (CBN) monetary policies otherwise the recession that we are experiencing now will take us another seven years to get out of it. Nigeria may not come out of the recession until the government does the right thing.
I also foresee the changing and redeployment of some Directors at the CBN and also top management staff. I foresee mass sack and redeployment of workers in many banks. Many will change their Managing Directors some of the members of the board. There will be redeployment of some bank managers. The financial institution will take new steps on cash deposit and cash withdrawal. I foresee some of these two banks (diamond bank.
Fake N500 notes will be detected in some of the Northern part of the country and which will be in circulation. I foresee Asset Management Corporation of Nigeria (AMCON) also facing challenges. I also foresee AMCON working tirelessly on bad debts owed by the banks. CBN will scrap black market. Nigeria currency will be changed in the nearest future. Let us pray we don't lose any former deputy governor.
Some of the CBN contractors may be taken to court. The banking industry should pray to rebuke armed robbery cases that may be so prevalent in the country. Let us pray we don't lose any CEO of any of the banks.
Insurance Sector
Let us pray that any insurance company will not have troubles. The year 2017 will be more challenging for the Stock Broking Firms. There will be some problems with the stock exchange. Shares will be stable in the month of May, June and July and will be unstable in September, October and November of the year.
Aviation
There will be agitation to merge some agencies together such as in NACA, NAAN. Workers of Arik airline will go on protest. In the same vein, Lufthansa Airline and Dana airline workers will demonstrate protest. The security agency will intercept attack in our airports.
Foreign Scene
On the government of Donald Trump, his government will have so many issues and troubles and of course his policies will be criticized. Donald Trump will escape attack. He should be careful with Israel and Russia. He must be watchful so that he will not take the wrong step to address issues in Israel, North Korea, Iran and Germany; he will be too aggressive in his approach.
There will be modification in dollar denomination. Trump must be careful of picking the state secretary and if proper care is not taken he may pick a wrong choice. Trump will come about new policies and it will not work. American soldiers will be held hostage. America and some government will ban Hijab. So many things will happen as immigration law will be reviewed.
American soldiers will be attacked and their helicopter may as well be attacked. Russia will cause problem for Trump government. China will take some new steps to struggle with America. USA must be careful not to lose its economic strength and military. ISIS will re-strategize their security outfit.
A new terrorist group will be formed in Europe and Asia. I see new immigration law in Europe. USA must be careful and watchful of attacks within some states, in schools, bus attack. European Union will issues with some of their states may affect their strength and EU will face major challenges which will affect their members' within some states, schools and bus attack.
There will be killings in South Africa. ANC will change their leader as Zuma will have problem with his party and parliament. Zuma President will have problems and foreigners will be killed in the country. There will be serial killings in turkey, Germany, France, Israel, Nigeria, Libya, America and UK. Let us pray to rebuke death in Buckingham Palace and there will be changes in Buckingham Palace.
The queen and the prince must be prayerful for good health. I foresee the death of a former president at the global world. The election in Germany will take a new shape. The incumbent chancellor of Germany should re-strategize as Germany will be attacked by terrorists and their economy will be unstable and they will review their asylum procedures.
I foresee bomb explosion and militant attack in Kenya as the opposition will want to rubbish his second term ambition. Let Zimbabwe pray against crisis and water pollution. The government must not overlook this. Malabo oil probe may still come up. South Sudan problem is not yet over
I foresee crisis in Catholic Church and they should pray for good health. There will be new policy that will make the people to criticize the Catholians. The incoming Ghana President should not probe the past leaders otherwise it will collapse his government. Ghana should pray to avert the death of a prominent politician in the country. Benin Republic President will not get a second term.
Customs
I foresee disagreement in the custom. I see the smugglers will kill some custom officers and the custom will retaliate. Fraud will be detected in custom. There will be corruption in custom.
Personalities
Alex Duduyemi, Lateef Jakande, Peter Odili, Tofa, Yakubu Gowon, Victor Olaiya, TY Danjuma, Shehu Shagari, Alex Ekweme, Ernest Shonekan, Gemade and Emeka Ofor and Bamanga Tukur should pray for good health. Isiaka Adeleke should pray well because I foresee his political future threatened. Andy Uba should watch his political moves and God's divine backings.
Ifeanyi Uba should be watchful so that he will not run into unexpected debt and litigation. Charles Soludo should wait for the right time in politics, he should not leave politics and he should pray not to be bereaved and also not to be attacked. Arthur Eze should be careful not to lose in his investment and pray for God's guidance and protection. Dangote should pray so that his truck will not get an accident and crisis, setback and pray to rebuke debt in some of his investment in Africa and he should pray for God's protection. Dangote should not go into politics.
Aisha Buhari should pray well for God's guidance and be watchful and careful of her movement. Aloma Mariam Mukhtar, Fatimah Abubakar should pray for God's divine backings. IBB must be watchful of his health. Ibrahim Mantu will experience political setback. Masari will be under serious pressure. Sunny Kuku and Sunny Odogwu should pray for God's protection. Raymond Dokpesi and Edwin Clark should pray for good health.
National Population Commission
NPC will take wrong steps in statistic population of the people in the country. Some commissioners will be changed and the figures will not be correct.
INEC
INEC will change some of is strategies in election procedures and they should not try E-voting. There will be change of date in the 2019 General Election
Dam in Nigeria
There should be prayer for Shiroro dam, Ijegde dam and Kanji dam so that there will be no troubles. Egbin plants should pray so that there will be no complications. Ajaokuta steel will have problem. They should pray to survive the challenges so that they will not have problems. Ijede should pray against their equipments in order not have problems.
Transportation
The government will restrict the movement of tricycle in some areas in Lagos. NURTW will be having challenges. There will be fight in this union and there will be killings in Lagos, Ogun and Oyo.
Economy
The Spirit of God says there is red signal in Nigeria economy; it will be causing pain for the nation's; Nigeria economy will start picking up from 2018. I foresee fluctuation on the way of our economy uprising. The economic indices will be going up and down until the government decides to do the right thing. The government will be confused and should be careful of wrong advises. BUA sugar will have troubles. The price of cement will fluctuate and will be sold for the sum of 3,000 and later regulated and reduced to N1800
Power and Energy Sector
I foresee rancor in the Energy and Power Supply. Power supply will be partially stable in Nigeria in 2018. I foresee major blackouts before 2018 as the sector will be having problems. The energy tariff will be unstable and customers may challenge the tariff.
The Eko Electricity Distribution Company Edo Electricity Distribution Company, Kaduna Electricity Distribution Company, Ekiti Electricity Distribution Company, Kwara Electricity Distribution Company, kogi Electricity Distribution Company will have problems. Our electricity megawatts will drop in May.
Telecommunications
I foresee challenges for these companies. Let's pray we don't lose prominent personalities in this sector. I foresee these telecommunication companies having issues with the government. I foresee Etisalat running into big debt. The company should pray not to lose some of its hard working and dedicated staff. I foresee that the Managing Director of GLO will be facing challenges. Etisalat mast will be attacked.
Glo and Airtel must pray to rebuke litigation. Airtel will buy subsidiary extension. I foresee a new telecoms company coming into the industry in the next two years. There will be reviews and changes in tariff by telecoms operators which will be resisted by the subscribers. Telecom operators will do upgrading because there will be connection problems. I foresee changes in NCC and the communication data devises will be changed and increased.
Taxation
Taxation will cause problem for some companies.
Education
The Spirit of God says some university lecturers will be sacked because of their atrocities that may cause problem and lead to their sack. I foresee the establishment of new universities in Nigeria and the university procedures will be changed.
The Joint Admission and Matriculation Board (JAMB) will change its strategies in the handling of its affairs which will be good news to students. I foresee JAMB reverting back to the use of the manual method for the conduct of its exam. I foresee that West African Examination Council (WAEC) and National Examination Council (NECO) will review their systems in the conduct of the General Certificate of Education Examinations. ASUU will break into factions.
I foresee that Minister of Education will review some certain things in the sector. The Head of JAMB and WAEC should also pray not to witness crisis and troubles. JAMB will review its cut off mark. There will be changes in the conduct of the Common Entrance Examination.
I foresee reforms in the educational sector. I foresee names of some universities and polytechnics will be changed in the nearest future. ASUU will embark on strike and agitating for well paid salary. I foresee changes in the board of the Nigerian Union of Teachers. Let us pray against school collapse. Let pray against killings in our schools. I foresee that kidnappers will invade schools.
The National Youth Service Corps (NYSC) will not be scrapped but I foresee reforms that will affect its modus operandi. There will be changes in the NYSC orientation camp. Let us pray against protest. The NYSC maybe attacked; pray against corps accident. There will be reform in the NYSC service.
There will be a lot of changes in Unilag and the students' will go on protest. Some of the Unilag lecturers will face probe. Let us rebuke unexpected killings on the campus. Some Dean of Faculties will be changed. Lets pray to rebuke unexpected death among the lecturers.
Police/ Government Parastatal and Security Agencies
The Directorate of State Service will bring court a lot of incriminating report on some government officials, banks and governors, indicted may amount to litigation. FIRS will be taken to court and the chairman will have issues to contend with. There will be changes in NDLEA approach and their personnel will have issues and some state commanders will be changed.
Nigeria Police Force/ Air Force
I foresee the death of Senior Police Officers. The Police Force must pray against this. The Inspector General of Police should pray against scandal. I foresee changes within the ranks of the Commissioners of Police, Deputy Inspector General of Police and Assistant Inspector General of Police.
The Spirit of God says AOC's will be changed. Ikeja AOC must be watchful and AOC in Kaduna. I foresee the airforce logistics will be changed. The Head of Army procurement officer will be changed. Let us pray to rebuke the outbreak of fire in the police and army barrack. Let us pray so that none of the Nigerian Air force planes will crash. The senior police officers will be indicted of corruption
Navy/ Army
The NAVY will be attacked on our sea. The naval and army staff will start a new method in their training procedure. The navy warship will also develop technical troubles. All army resettlement centres should be careful. The Nigeria armory should be watchful of explosion.
Army Barracks will undergo renovation and let them pray so that there will not be a deterioration in the building that may cause causality. Army junior officers will embark on protest. Some army officers will be court martialed and there will be killings among the army. Army will be taken to court. I foresee Service Chiefs running into trouble.
The Mobile Police (MOPOL) Commanders should pray against challenges. I foresee replacements in the MOPOL Leadership. I see changes in some head of MOPOL 19, 20, 21 and 22. I foresee protests in the police. Soldiers that are fighting the Boko Haram war will still lose top commanders in the Boko Haram war.
Soldiers will protest ill treatment in the force. The Boko Haram sect will still be very active so the army should be watchful. The Spirit of God says the office of the Federal Head of Service should be prayerful so as not to be indicted.
Federal Road Safety Corps/ Civil Service
I foresee sweeping changes and redeployment in the Federal Civil Service. There will be protests by workers of the Civil Service. The Federal Road Safety Corps (FRSC) will face challenges and litigations. Some of the FRSC Sector Commanders will be removed. I foresee redeployment in FRSC.
I foresee that an attempt will be made to break the organizational structure of the FRSC but it may not work. They should pray not to lose any of their staff. The FRSC powers in relation to traffic management and control will undergo reforms by the government.
Nigerian Security and Civil Defence Corps/ DSS
The Nigerian Security and Civil Defense Corps (NSCDC) will be having issues with the police which may result to killings of operatives of the two outfits. The Civil defense should pray fervently not to lose any of their staff. Let us pray to rebuke death among our DSS personnel. DSS will get new instrument and training in overseas
Sports
The African Cup of Nations (AFCON), there will be a lot of surprises in the tournament. An unexpected country will lift up the cup. Let us pray against crisis in the country where the tournament will be hosted. I foresee crisis in the Nigerian Football Federation (NFF). The Minister of Sports, Comrade Dalung will face challenges.
Let us pray against any death in the NFF. NFF will have problems with the new coach. NFF will go into debt as NFF will have problems with FIFA in issue concerning money and documentation. I foresee some club facing challenges. Clubs like Enyimba, Warri Wolves, Rangers International, Sunshine Stars, Lobi stars, Wikki tourist may change their coach and may run into financial crisis and will hold their players.
Rivers United and Kano Pillars should pray well to escape any attack. Let us pray so that any of the local club team don't witness accident. I foresee LMC will have issues with some club and their regulations will be changed at the helms of affairs too.
Let us pray there will not be stampede in any of some stadium in Africa. There will be changes in LMC. I foresee troubles in LMC which may want to lead to some changes. Let us pray so that we don't lose a Referee. Let us pray so that football clubs in Cameroon, Ghana and Cote D'ivoire should not lose any of their players. The trouble in NFF will continue.
The following players must be watchful. Messi, Yaya Toure, Sando Mane, Riyad Mahrez, perry Emerick, Mohammed Sallah, islam Sliminia, Reinfor Kabara, Khalah, Mikel Obi, Nwobi and Iheneacho. Sports writer should pray so that there will no crisis and lose any of their members. Some clubs Fans will cause problem in the field of play.
Politics/ Nigeria
Nigeria will sign agreement with Germany, France and United States of America on terrorist. President Buhari will face a lot of disappointments among his trusted aides and political associates. There are lots of changes he will want to implement but he will suffer setback.
He means well for Nigeria and has good plan for the country but there are a lot of people surrounding him that will mislead him and don't want him to succeed. Despite the effort of his government, there will still be problem between his political admirers. I also foresee political tension in Kwara, Kogi, Ogun, Oyo, Ondo, Kano, Sokoto, Kaduna, Kebbi, Zamfara, Benue, Pleteau, Edo and Yobe states.
The Igbo should form an alliance with a strong party their time has not yet come. They will not win the presidency in 2019. South west may be cheated politically. South-South may lag behind except they rise up and they come in one voice.
In 2019, there will be different agitation of who becomes the President. I foresee internal wrangling in Aso Rock Villa. I foresee crisis between the President and the Vice President. Obasanjo is playing his last politics. Olusegun Obasanjo and Buhari will have issues and Arewa consultative forum and some core northern elders will have issue with Buhari government.
I foresee that Buhari will have issues with some past head of states and he should pray against health challenges. He should pray so that he is not bereaved. I foresee the death of any former civilian and a former military leader in Nigeria. Let us pray to rebuke the death of a Minister and also a very prominent politician. Let us pray to God to grant all the former Presidents in Nigeria good health.