Following the health crisis rocking Queens' College, Lagos, resumption of academic activities at the school has been postponed indefinitely.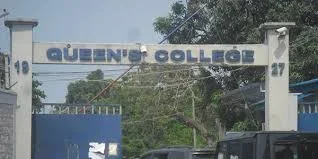 There had been an outbreak of water borne diseases in the school, leading to deaths of students and panic among parents.
Two students have died since the outbreak of the diseases, with more than 50 others currently on admission in the school's clinic after eating spaghetti and drinking water in the refectory.
In its reaction, the Lagos State government had advised an indefinite shutdown of the school.
Similarly, the Unity School Old Students' Association, USOSA, on Sunday called for the declaration of public health emergency at the school.
The school, a federal government-owned institution, had been billed to reopen from its midterm break on Sunday March 19.
But Chidi Odinkalu, president-general of USOSA, said in a statement that pending independent
certification of the school as safe for human activity, it should remain closed.
School officials did not agree to speak to journalists on the record. But they confirmed that the resumption date had been rescheduled indefinitely.
A teacher in the school who declined to have her name in print told Premium Times that text messages were sent Sunday evening to inform parents of the postponement. But when probed about the new date fixed for resumption, she said there was no official statement to that effect.
"For now, those in SS3 and JSS3 are coming in as day students from today, Monday, in order to prepare them for their WAEC exams," another staff said.