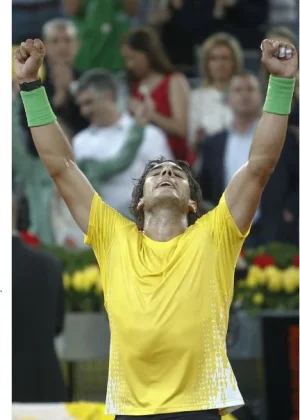 World number one tennis player Rafael Nadal, beat fellow Spaniard, David Ferrer 4-6 6-4 6-0 6-1 in the on-going French Open to progress to the semi-finals.
Nadal, who is the defending champion, lost the first set only to turn around and dominate the second set onwards bringing himself back into contention with the elimination of errors in his game.
"When you play David on any surface, it's always tough and he's having a great season.
"But I was more aggressive after the first set and maybe he did not have the best of matches as it went on."
The game which started around 7pm at Roland Garros and went on into late night with Nadal looking to wrap up before darkness would force play to continue the next day.
Meanwhile, British number one Andy Murray saw off French favorite, Gael Monfils in a back-to-back 6-4 6-1 4-6 1-6 6-0 win on the clay court,setting up a last four clash with Nadal
Murray gave up a two-set lead due to unforced errors, giving the Frenchman a glimmer of hope and home support as Monfils chased the record set by compatriot Yannick Noah in 1983 - a home court champion.
Murray, who turned out to be the villian, was hoping the evening gloom would halt the proceedings into the fifth set but the match was ushered on.
"It was very tough conditions. It was very windy at the start. I started well but when the wind died down he began to play so much better. He's such an amazing athlete. I was lucky that he started the fifth set badly," said Murray.
Nadal and Murray will face off to see who qualifies for the final with the Spaniard, a favourite to advance and holds a 14-5 record over the Scot.
Last edited: