The Federal Government on Tuesday in Abuja earmarked N433.4 billion in the 2016 budget for its services in the Ministry of Power, Works and Housing led by Babatunde Fashola.
President Muhammadu Buhari stated this on Tuesday in his 2016 budget speech delivered at the Joint session of the National Assembly.
He said it was the intention of government to raise the percentage allocation for capital expenditure in future.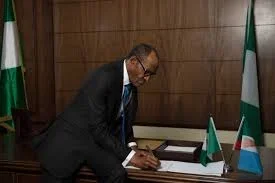 Capital expenditure will represent 30 per cent of our total budget
Works, Power and Housing to the tune of N433.4 billion.
Transport: N202.0 billion
Special Intervention Programmes: – N200.0 billion
Defence: – N294.5 billion;
Interior: – N145.3 billion.
Health: – N221.7bn
Education: – N369.6 billion
Foreign and domestic debt servicing: – N1.36 trillion
The President said these investments in infrastructure and security were meant to support the nation's reforms in the Agriculture, Solid Minerals and other core job-creating sectors of the nation's economy.