Manchester City have completed the signing of Borussia Dortmund midfielder Ilkay Gundogan on a four-year deal.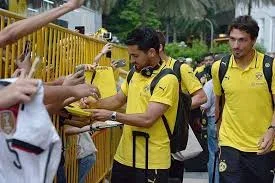 Gundogan before leaving his former club took his time to write Dortmund fans.
He wrote on Facebook:
'Hey guys, After five successful years ends my time at Borussia Dortmund. Together, we have celebrated successes and in moments of defeat together confessed.
'I wish to thank especially my two bvb-Coaches Jurgen Klopp and Thomas Tuchel, with whom I have in the last few years, had a great time. A time when I'm athletic until national player could develop. Also all the staff from the club, my team-mates, and especially the fans, I am very grateful that you have always supported me.
'The reason for my change is that in the last few weeks has shown the possibility, under pep guardiola in Manchester City FC to play. Guardiola was it that asked me, and convinced that the step at the present time is the right one.
'Under His direction I would like to take the next step in my sports development as a footballer. I'm happy that despite my injury both clubs have been able to agree and the bvb for me a can't be bought. I wish the BVB, in any case, only the best and will do everything now, as soon as possible to be fit again! Illy'
See post: